Residential Garbage Service
Safe and reliable waste management services for County Waste Orange County NY, southern Ulster County, and southern Sullivan County.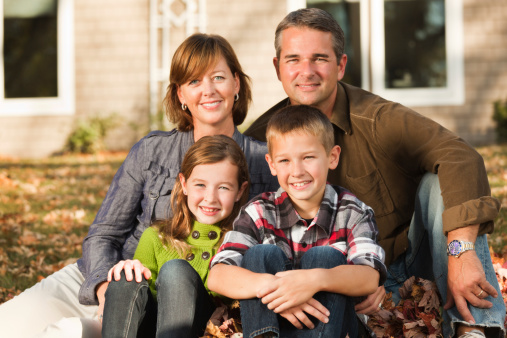 County Waste and Recycling of Montgomery, NY provides residential garbage and recycling services to single-family homes, homeowner associations, and municipalities across the Orange County, southern Ulster and southern Sullivan counties.
County Waste NY strives to provide safe, dependable and cost-effective garbage and recycling collection services to all of our New York customers.
For residents we also offer Residential Roll Off Dumpster Rentals.
Residential Trash Service
New Orange County Waste and southern Ulster County residential customers may request a 35-gallon, 65-gallon or 95-gallon trash cart. The carts provide a safe and secure place for residential waste between pickup dates and the large wheels make it easy to roll carts to and from the end of the driveway.
| | |
| --- | --- |
| Collection Frequency | Weekly, Every Other Week |
| Collection Schedule | Schedule |
| Cart Sizes - GRAY LID | 35, 65 or 95 Gallon |
| Service Area | Service Area Map |
---
Residential Garbage Carts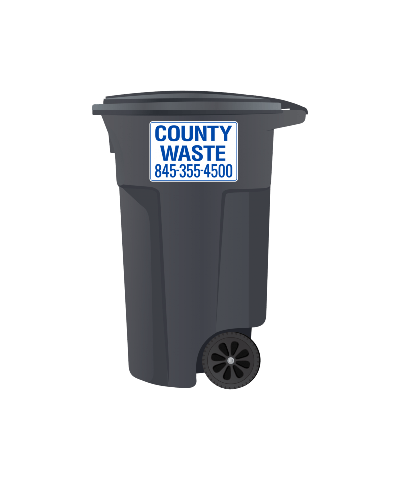 35 Gallon Trash Cart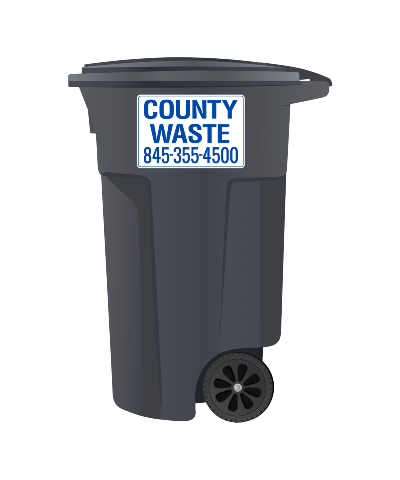 65 Gallon Trash Cart

95 Gallon Trash Cart

Safe Collection
County Waste and Recycling strives to assure the complete safety of our customers, our employees and the public in all our operations.
Please contact us if you need additional carts or a larger cart.
5 Steps to Safe & Efficient Collection
Place only acceptable materials in the trash cart and

do not overfill

.
Bag and tie all garbage materials AND close the lid to prevent littering.
Place the carts at the end of your driveway the night before your collection day.
Space carts for safe and efficient collection. (see diagram)
After cart is emptied, remove from driveway.
When you and your neighbors place carts a safe distance from other carts and objects, it allows the auto side load trucks to safely and promptly empty the carts.
Why Cart Spacing Matters
The 18' height spacing is needed to reduce overhead hazards like powerlines and trees.
The 3' cart spacing is needed to accommodate the auto load system.
The 5' distance is needed to safely empty the cart near trees, cars, mailboxes, etc.
Everyone Benefits
When each household consistently follows the 5 Steps to Safe & Efficient Collection everyone benefits with:
Safety
Timely Service
Cleaner Neighborhoods
Materials
For safety, environmental and legal reasons, only place approved non-hazardous, solid wastes out for County Waste & Recycling collection.
Our Waste Wizard, available below and via the County Waste App, make it easy to look up any item for proper handling: trash cart, recycling cart, special bulk pickup or special drop off.
Acceptable Trash Cart Materials
Cardboard, dirty, greasy or wet
Clothes, shoes, boots
Clothes hangers
Diapers
Dog or other small pet waste, double bagged
Food
Food-to-go containers
Garden hoses
Glass
Household trash, solid waste, non-hazardous
Paper, soiled, greasy or wet
Plastic bags, plastic film
Plastic 6-pack holders
Ribbon
Styrofoam egg cartons, cups, plates
Styrofoam packing materials
Toys
Twine, cord, rope, chain
Unacceptable Trash Cart Materials
Ammunition
Ashes, hot or cold
Construction materials
Electronics
Liquids: fuel, oil, paints, etc.
Materials too large to close cart lid
Medical waste, needles, sharps
Propane tanks
Tires
Wood
Yard waste
Bulk Pickup
When residential customers have items too large to fit inside their cart and close the lid, they can request a bulk pickup. A list of common bulk items is listed below. County Waste & Recycling also offers roll off containers for large house, garage or yard cleanout jobs and home remodel and construction projects.
Call 845-355-4500 or email days in advance to schedule a bulk pickup
Describe the type and quantity of materials for collection, costs will vary
Acceptable Bulk Pickup Items
Air Conditioner (Freon removed)
Barbeque (no propane tanks)
Carpet & underpadding
Clothes dryer
Clothes washer
Dishwasher
Flooring (linoleum)
Freezer (Freon removed)
Furniture
Lawn mower, non-riding (gas and oil removed)
Mattress / Box Spring
Microwave
Mirror
Refrigerator (Freon removed)
Stove
Window
Wood
Thank you for taking steps to make residential trash collection safe and efficient for you, your neighborhood and community.