County Waste Roll Off Dumpster Rental
For safe and professional roll off dumpster rental service call 845-355-4500 or Request Quote
County Waste Management Services
County Waste and Recycling of Montgomery, NY offers timely (temporary or permanent) roll off dumpster rental service in:
Orange County, NY
Southern Ulster County, NY
Southern Sullivan County, NY
Eastern Pike County, PA
NOTE: Homeowners please our Residential Roll Off Dumpster Rentals.
County Waste NY:
Offers a large inventory of roll off container sizes for small and large projects.
Offers a flexible service schedule: daily, weekly, or as needed.
Employs professional roll off drivers with job site experience.
Strives to assure complete safety of employees, customers and the public in all of our operations.
Roll Off Dumpster Sizes
County Waste's roll off professionals can help select the right size of container for your project. A variety of other heavy-duty services, like compactors, are also available for customers that generate large volumes of waste.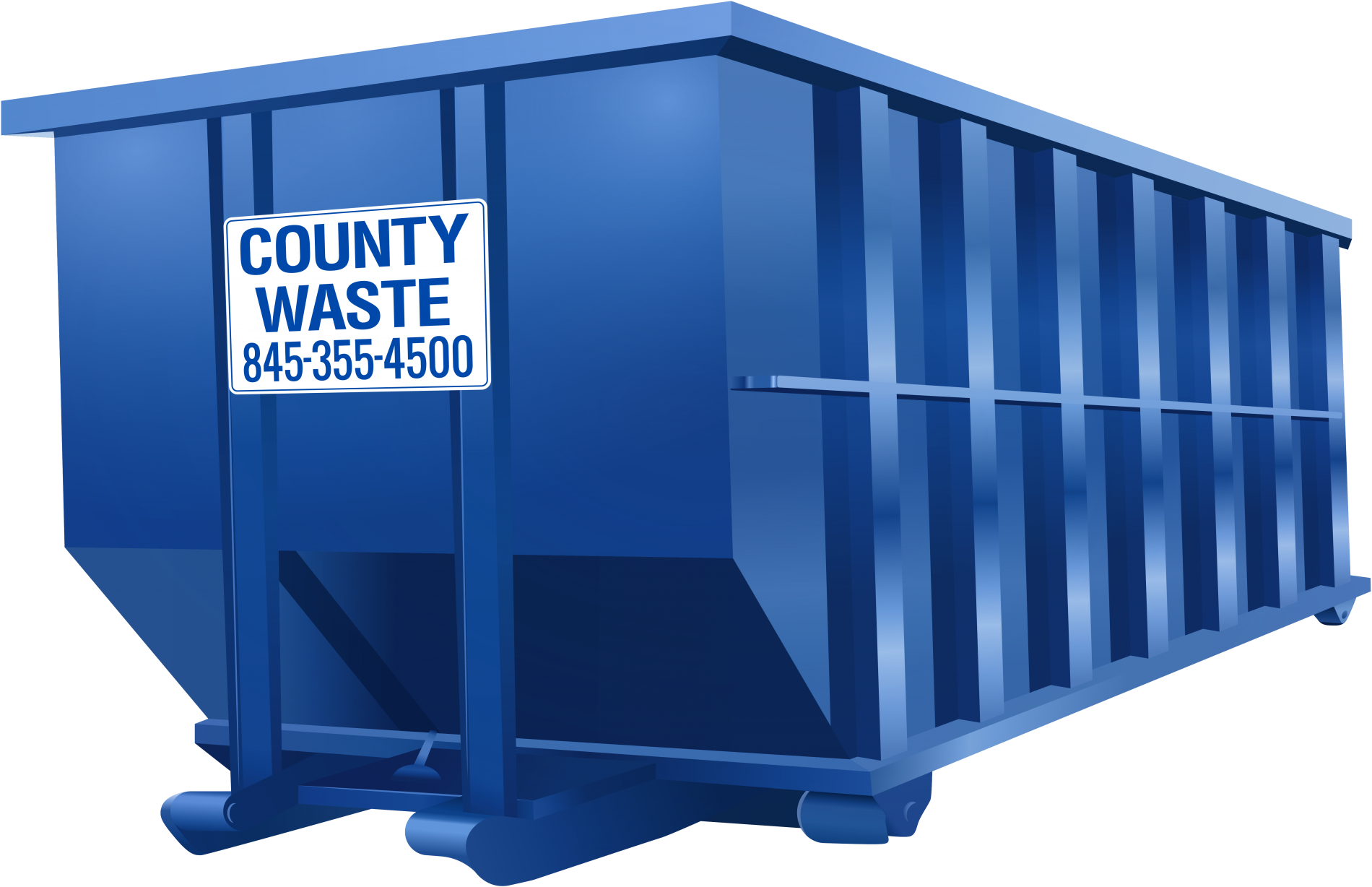 | OPEN TOP | LENGTH | WIDTH | HEIGHT |
| --- | --- | --- | --- |
| 10 Yard * | 13' | 8' | 3'-5" |
| 15 Yard | 15' | 8' | 4'-2" |
| 20 Yard | 22' 9-1/2" | 8' | 3'-5" |
| 30 Yard | 22' 9-1/2" | 8' | 5'-2" |
| 40 Yard | 22' 9-1/2" | 8' | 6'-10" |
Construction projects create bulky, non-compactible wastes like cardboard, sheetrock, wood, and other materials, that can be easily managed and hauled away in high-capacity roll off containers. Roll off containers can be hand-fed thanks to their large 7-foot rear doors, and will also accommodate forklifts for depositing extremely bulky or heavy materials.

Serving Contractors
Contractors with project-specific approaches to managing construction waste, including diversion, turn to County Waste & Recycling professionals for their experience, service capacity, and their single point of contact to coordinate the safe and timely removal of materials at their job sites.
To help manage the economic viability of diverting construction waste from disposal on the job site, County Waste & Recycling understands that contractors strive to balance:
Placing containers close to workforce and for maneuverability
Keeping dumpster volumes high to minimize transportation costs
Eliminating the contamination of material-specific containers
Having the fewest number of dumpsters for specific types of materials
Roll Off Materials
For safety, environmental and legal reasons, County Waste and Recycling only handles certain materials. Please speak with a sales representative about any special waste or recycling materials your business or project generates.
Acceptable Roll Off Materials
Cardboard
Carpet
Construction Debris
Furniture
General Appliances (Freon removed and stickered)
General Office Waste
Landscaping Debris (Minimum amount of dirt)
Metal
Roofing
Shrink-Wrap
Wood
Unacceptable Roll Off Materials
Air Conditioners (With Freon)
Asbestos
Chemicals
Drums / Barrels
Electronics
Hazardous Waste
Liquids
Medical waste
Oils / Gasoline
Paint Cans (With liquid and/or lids attached)
Propane tanks
Refrigerators (With Freon)
Tires
Tree Stumps
TVs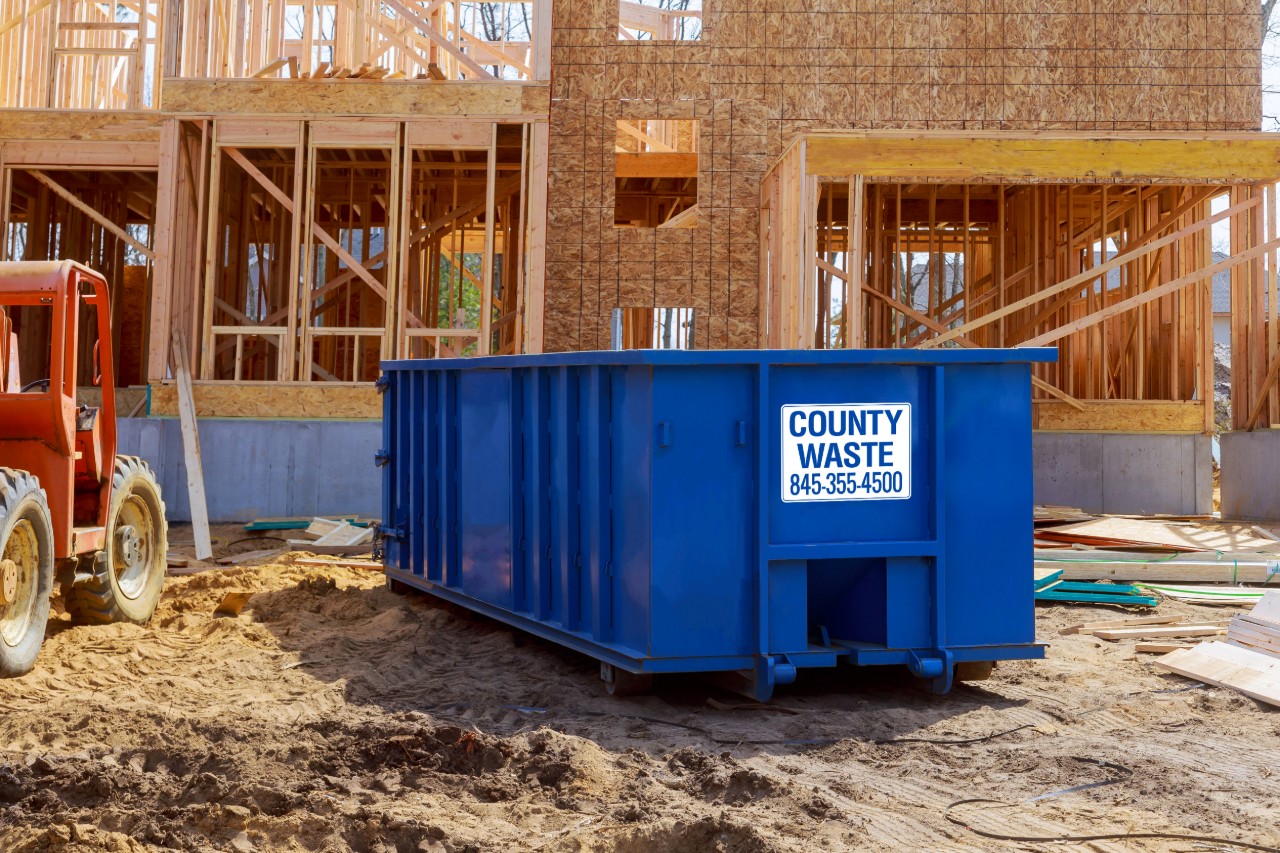 Roll Off Safety
For the safety of everyone, please follow these roll off safety guidelines:
Roll off containers cannot be placed under power lines.
Only place acceptable materials in the container and load it evenly.
Do not load materials beyond the container weight limits.
Do not load materials above the height of the "FILL LINE"
Do not place any liquid, toxic, flammable or hazardous materials in the container.
Keep children away from roll off containers.
Keep everyone away when the roll off is being delivered or picked up.
Compactors
County Waste and Recycling offers several types of high-capacity compactors that are engineered to be left on customer premises and can be hand-fed, chute-fed or hopper-fed.
Commercial waste collection customers with high-volume, low-density waste materials – such as the wet waste of grocery stores and hotels – are often best served by self-contained compactors. Stationary compactors are applicable for high-volume waste materials. Depending on the materials, two to three times as much waste can be handled with a compactor system, thus reducing the frequency of commercial waste collections.